BRUHstrology is where the astral plane and corner store meet. With the expert help of astrologer Janelle Belgrave (and our resident BRUHstrologer, Bruce Goodwin II), CASSIUS decodes your horoscope so you don't have to. Here's what's on deck for the week of June 10, 2018.
Aries
The Astrologer Says:
It's much easier to rally people to your side when you add honey to your words as opposed to salt and vinegar, Aries. Focus on softening your communication style. How can you keep your direct, no-bullshit vibe while adding sensitivity to your delivery, so people don't automatically assume you just came to fight? Try not to go into things expecting to be told no, but be ready to compromise.
The BRUHstrologer Says:
You know that great American proverb, "You catch more flies with honey, but you can catch even more hunnies being fly"? (We don't know who said it first, but our guess is Quinten Miller.) Well, do that. Come through with the fire fits this summer. Don't be scared to buy the six-inch inseam shorts. Show off those knees, King.
Leo
The Astrologer Says:
Venus will have you stepping out in a new fitted this week, Leo. Make sure you're glittering and shining because what you present to the public will have all eyes on you. Say yes to new friends and associates who dig your unique style and want to collaborate with you on making your dreams for the future come true. Don't give up hope if you're still unsure about what you want to create. A little daydreaming and scheming will be all you need to connect to what you want.
The BRUHstrologer Says:
Things gon' change this week, as the hard work you've been putting in will finally bear its fruits. New homies will try and work with you or be your friend, so don't be afraid of allowing the gang to expand. Having as many people in your crew as A$AP could be lit, ya know.
Sagittarius
The Astrologer Says:
Make plans to enjoy more loving in your life, Sadge. Whether it be with a boo, a bestie, or a business partner, make an effort to keep your dates with others who want to connect with you. Examine how you can get more from your relationships and what it will take for you to open up to get the support you need to get things done. Don't worry, no one wants to tie you down for too long. Just give them enough time to give you a hug and cheer you on.
The BRUHstrologer Says:
Chill with all that working. Your mid-year review is already in so you can stop kissing your boss' ass because that bonus is super close. Stop canceling hangout sessions with people from work (and your actual friends) because you'd rather go home and binge Queer Eye. It's a fire show that breaks gender stereotypes, we know, but go live your life, bro.
Taurus
The Astrologer Says:
You got your mind on your money and your money on your mind this New Moon, Taurus. You may have to assess how you make your money and whether or not it still lines up with your changing values. For example, if you really value the preservation of nature but have money tied up in offshore drilling… there may be a bit of a disconnect there. Jot down where your money is going and decide what needs to change so you can go about spending your money in good spirits.
The BRUHstrologer Says:
Put your money where your mouth is. It's that simple. Not supporting Kanye West at the moment? Stop streaming Pusha T's Daytona. We know it's tough, but be transparent in your values. But hey, you can still sip tea as you stream "The Story of Adidon" on Soundcloud.
Capricorn
The Astrologer Says:
If you treat self-care like you do the rest of your jobs and side hustles, Capricorn, you'll be winning. This week, make a promise to finally knock it off with the bad habits that leave you running on empty. If setting up a plan to take care of yourself seems like a struggle, enlist a partner to help you with the task. When you get your body and your schedule on the same page with your mind, there will be nothing to stop you, Cap. Just be sure to pace yourself.
The BRUHstrologer Says:
You gotta take care of yourself, bro. Working is fun, but it leaves you with emptiness elsewhere and that shit ain't wavy. Do something that makes you happy, even if it's just looking through eBay at sneakers you can't afford. You'll be able to afford the Nike SB Paris one day.
Virgo
The Astrologer Says:
Look at how far you've come and then ask yourself how much farther you want to go on the climb to your ambitions, Virgo. This week, reckon with your accomplishments, how you achieved them, and then set your sights upon new goals. If you're not sure what to do next, get your people involved. Chatting with them will remind you of where your heart wants to be of service.
The BRUHstrologer Says:
Look at you, accomplishing shit without even realizing it. All that work you've been putting in isn't just a job, it's also you believing in yourself and putting the pedal to the metal. You did the thing. You paid for all those studio sessions to release that terrible mixtape. Or maybe it's fire? Just remember to acknowledge your own accomplishments.
Gemini
The Astrologer Says:
New Moon, new you, Gemini! Focus on what kind of person you want to be, as this week will encourage you to finish up old personal dramas and then begin writing a fresh story about yourself. Make sure this version of yourself has some connection to what you actually believe in as opposed to what's hot, clickbaity and controversial in the streets. Find your inner moral compass, Gemini, so that you don't get blown off track.
The BRUHstrologer Says:
We have no idea what the New Moon means, but it's a new week! Leave last week's drama in the past. Remove yourself from that toxic group chat and slide in some new DMs. Who cares if the last 30 Instagram models you DM'd didn't answer? There are always physically fit tea sellers out there. Just remember to be yourself and also remember why it is you do what you do. Oh, and stay away from the ones that sell appetite suppressant lollipops. Have standards.
Libra
The Astrologer Says:
You need to get out and enjoy the world, Libra. If there's an opportunity to leave town just to clear your head, take it. This New Moon will have you focusing on expanding your horizons and thinking about how you can break out of the daily grind. Wherever you land (even if it's just on an episode of Parts Unknown— you'll be missed, Anthony Bourdain) watch for what leaves you feeling inspired, and think of ways to bring that energy into your day-to-day.
The BRUHstrologer Says:
Time to take that break you've been thinking about. We hope you've been saving those days off instead of using them all winter so you could get lit Sunday night and stay home "sick" on Monday. You're fooling no one.
Aquarius
The Astrologer Says:
You have full permission to run wild in these streets, Water Bearer. Commit to embracing pleasure as the new normal. Take some risks, go out and play, get into some mischief, and maybe kiss (and tell a few people about it). Summer is about to start, and the best way to shake off the stress you've been under is to create a life that you can fall in love with again.
The BRUHstrologer Says:
Yo, you're about to have a lot of fun this week. Just remember to use protection, whether it be seatbelts, helmets, prenups, or condoms. Vegas is for the weekend, but some other things can last forever.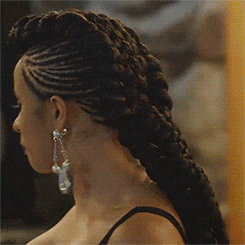 Cancer
The Astrologer Says:
Take a load off, Cancer. You've been running yourself ragged trying to keep up with these relationships and work demands, and now you get to turn on airplane mode so you can disconnect from the grid and recharge your batteries. As your birthday season approaches, think of this period as well-deserved downtime that will allow you to dream up what you want for yourself. I've heard spending a day in your pajamas while you pin your ideas on Pinterest for hours is a fun way to pass the time.
The BRUHstrologer Says:
Put your phone away as soon as you get home. Those fire memes and gifs will have to wait while you take a break from the world. On second thought, that might not be the best idea because LeBron James might be switching teams and that's one of the things you need to see go down in real time on Twitter.
Scorpio
The Astrologer Says:
Line yourself up with your drives and passions, Scorpio. Good, now figure out how you're going to finance them and yourself so that you can keep pursuing them in the long term. You may want to set up a new budget, check in on your investments (or lack thereof), and set new goals that allow you to feel more secure as you go about making a name for yourself. Speak up for what you need so that you get what you deserve.
The BRUHstrologer Says:
You know what you wanna do, right? So do it. Set up that budget you've been thinking about doing so you stop spending damn-near your whole paycheck on dating app subscriptions. Saving money is sexy.
Pisces
The Astrologer Says:
You have options this week, Pisces. You can chill at home and do absolutely nothing, or you can whip your home into shape (like putting your winter clothes away and taking out the trash) so that you can use home base as the center of your mastermind operations. Who knows, whatever you discover during the organizing and decluttering process may recharge your creativity. Make being a homebody cool again.
The BRUHstrologer Says:
Who doesn't love options? You can either get way too lit at the bar and wake up in a bed that's not yours next to someone who looked way better after your tenth shot or spend the evening cleaning up the crib. The option is yours. You already know what we'd choose…
… and you better get extra salt on the rim of that margarita.
LAST WEEK'S SCOPES: BRUHstrology: How It's Goin' Down (Week of 06/03/18)