Fans & Critics Are Talking About Ye.
The official Ye listening party went down on Thursday night, and folks had a lot to say about the troubled rapper's latest album. Check out some of the reactions below, then head to Spotify and TIDAL to take a listen for yourself.
Drake Is Allegedly Paying How Much for Dirt on Pusha!?
Push had everybody talking around 10 p.m. Thursday night when he alleged via Twitter that Drake is paying $100K for incriminating info. "Can't no amount of money create skeletons that don't exist," he tweeted with the hashtag #ImUpset.
During a Thursday morning radio stop through Big Boy's Neighborhood, Pusha also questioned Drake's explanation for those blackface photos considering he hardly ever uses his platform to publicly address Black issues. "You don't stand for nothing, you don't say nothing about nothing," he said of Drizzy.
My #UnpopularOpinion: he kinda has a point. 🙃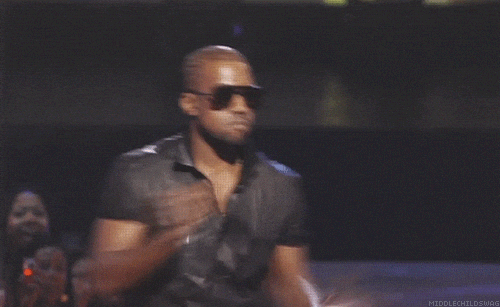 Tom Cruise Is Giving a First Look at Top Gun 2.
On Thursday, sources confirmed with Variety that Top Gun's sequel has begun filming in the U.S. Check out a first look photo shared by Tom Cruise himself below, which is, of course, a nod to the film's famous line:
"I feel the need—the need for speed."
Black Panther Won Big at the Golden Trailer Awards.
Everyone's favorite Black-ass Marvel film was the number one champ at the 19th Golden Trailer Awards on Thursday night. The blockbuster superhero film took home the top honor with four shiny trophies in total, which was the most any movie took home all night.
"It was another amazing year for marketers and for moviegoers who love trailers," GTA founder Evelyn Watters said in a statement. "This competition recognizes a field of artists and editors who toil behind the scenes but are most responsible for filling theaters and getting people invested in what is coming soon to theaters around the world."
See who else won big here.
Meet This Year's Scripp's National Spelling Bee Champ.
Fourteen-year-old Karthik Nemmani capitalized on an unexpected opportunity for the literal win. The Associated Press tells his super dope story here.
While You're Here, Go Support Little Miss Flint's Water Bottle Campaign.
In April, shortly after Governor Rick Snyder announced the end of a free bottled water program in Flint under the claim that water quality had been restored (it hadn't), Little Miss Flint took matters into her own hands.
"Thousands of Flint residents remain without clean water," the GoFundMe page for her latest campaign reads. Together with the Pack Your Back initiative, Little Miss Flint is calling on the public to help in providing clean drinking water for Flint residents. Each dollar raised equals 11 bottles of clean water.
Currently, the fundraiser has reached over $45K of its $50K goal. You can help them meet their mark by heading here.
She's also selling shirts to help Flint kids:
For more content like this, be sure to follow CASSIUSLife.com.