VICE Allegedly Booted Desus & Mero 2 Months Early Because of Their Showtime Deal. Petty AF.
In fact, they said in a recent Bossip interview, they were treated pretty unfairly in general.
"We were carrying that network on our back, and we felt the weight," Desus said. "They were talking about, 'do not take the weeks off because we don't get ratings,' and it's like, yo, we're just two people."
Mero added, "As a dad, you wanna be around for milestones for like graduations, birthdays…and it's obnoxious to have to be like, 'I can't go to my kid's graduation because we leave the studio at 3 o'clock and the graduation is at 4.'"
"The channel wanted us to die for this f**king network," Desus continued. "We're also the highest rated show on the network, put some respect on our name, have someone come massage my feet."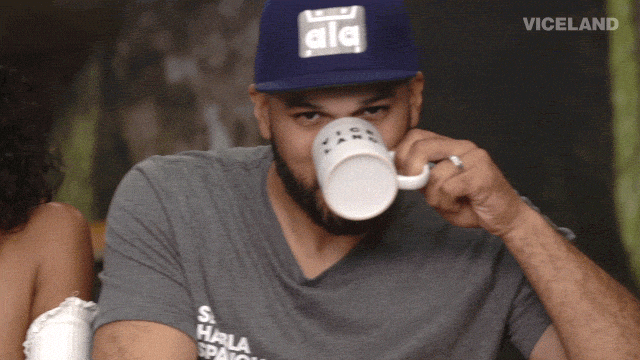 Start Your Morning with New Music from Donald Glover.
Donald Glover aka Childish Gambino just dropped two new tracks for the summer. Click here to stream "Summertime Magic" and "Feels Like Summer." Let your hair down (or let your fade breathe) while you're at it.
Watch Chadwick Boseman Read a Letter from a Migrant Mother.
The Black Panther star, along with Jake Gyllenhaal, Thandie Newton and more, have teamed up with American Civil Liberties Union (ACLU) for their latest campaign. In a four-minute video, the celebrities take turns reading an affidavit from a migrant mother named Mirian, who was separated from her 18-month-old baby boy at the Texas border.
"On Feb. 20, 2018, my son and I crossed the international bridge in Brownsville, Texas, and presented ourselves to US immigration officers," the letter reads. "The US immigration officers then told me that they were taking my son from me. They said he would be going to one place and I would be going to another."
Watch the stirring video below.
Here's Orange Is the New Black Season 6 in Photos.
It's a whole new world in the sixth season of OITNB, and if you missed the trailer, you can also catch that below. The show returns on July 27, which is soon, so catch up on the last season if you haven't. You've got time. 😉
ICYMI: Drake Popped up at Wimbledon.
There are so many jokes to be made here, but we won't state the obvious. Drake—along with Justin Timberlake and Jessica Biel—were spotted at Serena Williams' quarter-final game in Wimbledon on Tuesday. Check out BBC's recap here.
For more content like this, be sure to follow CASSIUSLife.com.