BRUHstrology is where the astral plane and corner store meet. With the expert help of astrologer Janelle Belgrave (and our resident BRUHstrologer, Bruce Goodwin II), CASSIUS decodes your horoscope so you don't have to. Here's what's on deck for the week of May 6, 2018.
Aries
The Astrologer Says:
Remember last month when you couldn't help but get into disagreements with others because there were communication issues? Well, that energy is coming back this week, so try to remember your manners and what you learned the last time you spoke up for what you want, Aries. What's changed is that you're feeling more grounded in your desires and motivated by your underlying passions. See how different your conversations go when you speak with the assertive confidence of someone who knows exactly what they're after and is brave enough to go get it.
The BRUHstrologer Says:
Last month was tough for you when it came to communication. The jokes weren't hitting in the group chat, the memes you tried to make were total shit, and your GIF replies didn't really work. But May is a new month, so get in your bag and get those jokes off. Say what you mean and mean what you say.
Leo
The Astrologer Says:
Think of your beliefs like they're your jet fuel, Leo. When you have quality life philosophies to motivate you, you can get through just about any challenge set before you. Since last month you've been fine tuning and adjusting the perfect blend of vision and action to keep you relaxed and focused. This week, go all out with confidence when using your unique blend of mantras, quotes, music, exercise, and whatever else you do to amp yourself up while going after your ambitions and putting your name out there. This is all you, Leo. Come with it.
The BRUHstrologer Says:
It's time to put your vision into play and get to work. Do what it takes to hype you up. Play that DMX song you love so much. Or maybe it's Taylor Swift. That's cool, too—just don't let Black Twitter find out. You can't be the only person who thinks 1989 is a banger.
Sagittarius
The Astrologer Says:
How's that side hustle going, Sadge? Have you figured out how you want to make it work for you yet? It hasn't been easy, but you're starting to get the hang of keeping all your plates spinning at once. It's just practice, focus and commitment between you and doing the things you love and reaping the rewards (monetary and more) for your efforts. This week, own the fact that you're better at this "Working on Making My Dreams Come True" thing than you may think. Just keep going, and smile! You're doing the damn thing.
The BRUHstrologer Says:
Wu-Tang Financial got you straight, so you already know that a side hustle is necessary. You heard me—those weird ass novelty keychains and soaps you like to make can earn you some extra bread. Open up that Etsy shop, King.
Taurus
The Astrologer Says:
We're getting close to go time, Taurus. How are you feeling? You're on the precipice of something new, and I know you can feel it. This week, just focus on living your life like it's golden, because for now, it is. That's not meant to sound ominous. Instead, think of it as a reminder that even amid change you can build just about anything you set your mind to.
The BRUHstrologer Says:
Take control of what's going on in your life, starting with your attitude. Enjoy the sunshine and follow Gucci Mane on Twitter—he's super motivational.
Virgo
The Astrologer Says:
Remember way back when (last month) when you were doubting your creative gifts and acting like you didn't know what to do with all your talent? Glad that's all over because this is the week to put it all out there. You really do got this, Virgo, so why not pull out all the stops and go for gold? What can you come up with when you act like you have the juice to make it happen?
The BRUHstrologer Says:
Stop doubting yourself. Though helping your gift materialize isn't the easiest of tasks, you know what it is, so just let it out. You got the juice now.
Capricorn
The Astrologer Says:
You're figuring out that it doesn't have to be Sea Goat vs. the World, vs. the Family, vs…whoever else you were fighting with last month. Hopefully, you've discovered that life is just more pleasant when you have people on your team invested in your happiness. So keep the lines of communication open and let go of the need to go so hard all the time. You know how to speak up when you need to. This week, enjoy yourself and the people who appreciate you and want you to feel comfortable expressing your creativity and joy.
The BRUHstrologer Says:
Letting people in is tough, we know, but you gotta do it. Not showing emotions seems cool, but in reality, all you're doing is stressing yourself out. And stop going so hard at the bar on the weekends, man. It's cheaper to just cop a bottle and have a drink (or two) alongside your bae of choice this weekend.
Gemini
The Astrologer Says:
Are you still rolling with Kanye, tho? Cuz if you are, I hope you've discovered a better way of speaking about your passions and your well-thought-out ideas (or not so thought out, if we're honest) that doesn't alienate everyone you associate with. It's a good week to see if you can exist in the shared reality while functioning on those ideas. If you can, great. If you can't, you may want re-draft a bit before you get caught out there like famous your Gemini cousin.
The BRUHstrologer Says:
Think before you talk. Why, you ask? Because we've heard "free thought" ain't it, dog.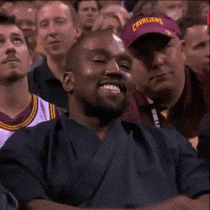 Libra
The Astrologer Says:
To think once upon a time you felt like you were destined to have constant struggles in your relationships, but look at you now! Out here working and standing up for yourself while also being open and vulnerable with others. You should feel geeked, Libra, because this means you'll have even more support when it comes to getting what you want. You'll also spend a lot less time feeling misunderstood and lonely. It pays to open up, so don't stop now.
The BRUHstrologer Says:
Kudos to you for finally learning how to use your words and expressing more than two emotions. Communication is fire once you start to verbally express it, eh? Now go flourish.
Aquarius
The Astrologer Says:
All this unplugging from the grid has your mind feeling clear of static, and you're nearly ready to go outside to see what's changed since you committed to the bunny-slippers-on-the-couch life. This week, focus on getting your mind right so you can start planning for your re-entrance to the world where Aquarius doesn't allow fears and doubts to get in the way of going after their goals. Can't wait to see what you've downloaded from the ether, Water Bearer.
The BRUHstrologer Says:
Deleting Twitter and Instagram has you feeling like a new person, and now you're ready to get in trouble with the warm weather finally rearing its head. For now, just focus on the preparation. Are you trimming the beard for the summer? Will you be copping Gucci loafers? Will man rompers be your thing? Once you sort through that, you should pop up on the scene.
Cancer
The Astrologer Says:
Hopefully, you've learned to make up and make do with your partners since last month, Cancer. All that fussing and fighting was no doubt exhausting, but since then, you've learned to communicate what you want to achieve and not have it be an all-out war. It's like the Avengers re-assembling after that silly falling out to save the world or something. Okay, maybe you won't be saving the world, but still, it's a nice week to enjoy those people who drive you crazy but at the end of the day have your back and want to see you succeed.
The BRUHstrologer Says:
You and the crew are back together, praise A$AP Yams. It's like Dipset getting back together—everything just feels right.
Scorpio
The Astrologer Says:
You've been refining your message for weeks and balancing the perfect amount of details so that you can make an impact with each word that you speak. You're learning the art of communicating and thinking like a boss. You have full permission to have fun running your mouth this week—especially when you're out interacting with people face-to-face—so you can put that intelligence and magnetism to good use. Continue to wow us all, Scorpio.
The BRUHstrologer Says:
You're free to be a motormouth this week. Tired of your girl making fun of you for wearing a fanny pack like a crossbody or the new haircut you have that makes you look like Lil Fizz? Let her know that it ain't cool and she should support you no matter what, despite your terrible choices. Have that same energy at work and with friends, too—don't be scared to tell people the truth.
Pisces
The Astrologer Says:
It's much easier to live your life when you're able to set boundaries with people, Pisces. Since last month, you've been learning the value of saying no to commitments you don't have the energy for or getting involved with people you have no interest in. Now, with these tools in hand, you get to enjoy spending time in social settings and not worry about being dragged into anything you don't have time for. Look at all that confidence! It looks good on you.
The BRUHstrologer Says:
Say no—not only to drugs, but to plans you don't wanna make, and overpriced sneakers you don't know if you really wanna buy. It felt good to skip out on that Cinco de Mayo brunch to watch the Toronto Raptors get blown out, didn't it? Make it a habit to say no.
LAST WEEK'S SCOPES: BRUHstrology: How It's Goin' Down (Week of 04/29/18)